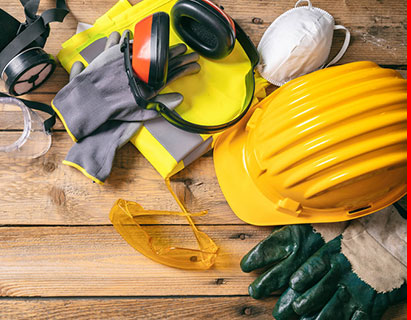 What is personal protective equipment?
Personal protective equipment, commonly referred to as "PPE", is equipment worn to minimize exposure to hazards that cause serious workplace injuries and illnesses. The result from contact with chemical, radiological, physical, electrical, mechanical, or other workplace hazards. Personal protective equipment may include items such as gloves, safety glasses and shoes, earplugs or muffs, hard hats, respirators, or coveralls, vests and full body suits.
What can be done to ensure proper use of personal protective equipment? All personal protective equipment should be safely designed and constructed, and should be maintained in a clean and reliable fashion. It should fit comfortably, encouraging worker use. If the personal protective equipment does not fit properly, it can make the difference between being safely covered or dangerously exposed. When engineering, work practice, and administrative controls are not feasible or do not provide sufficient protection, employers must provide personal protective equipment to their workers and ensure its proper use. Employers are also required to train each worker required to use personal protective equipment to know.

Safety Shoes
Safety boots are shoes made with a protective reinforcement at the front making them quite durable.reinforcement helps to protect the toes from falling objects or any kind of compression. They are normally installed with a sole plate in the main sole to prevent against punctures that may come from below.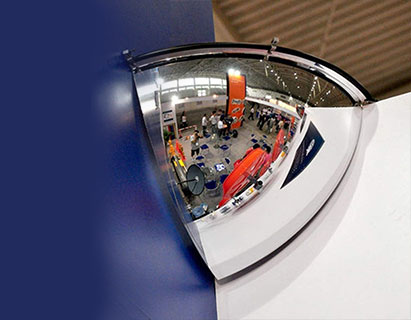 Safety Mirrors
A safety mirror, also known as a blind spot mirror or fisheye, is simply a lens-shaped mirror or a dome that reflects light in more than one direction. As a result, it has a very large area of vision.
Fire Bells & Beacon
The Fire Bell is a motorized bell designed for fire alarm applications. Its low current consumption and universally recognizable alarm sound makes it an ideal choice for many alarm systems. Designed for ease of installation, it features a robust steel gong.
---
---
BASE
If you are looking for very comfortable and high-tech occupational footwear with a great design, then I suggest you keep reading this article about Base safety shoes. In this article I will show you some models of Base safety shoes.Design at the service of beauty, technology at the service of safety, hands at the service of feet. Base Protection is the company which, for over 10 years, has been designing and producing comfortable work shoes.For Base Protection, comfort is a total experience, because the well-being of each worker also includes the health of his feet. To reach its goal, the company produces professional shoes, that combine technology, design and performance. The engine that drives innovation is the research and development activity.its work patents were filed, that make Base Protection footwear some of the best safety footwear. Behind each model there's the work of engineers, designers and creatives which collect ideas and competences, to create shoes capable of satisfying the needs of each worker and to ensure resistance, breathability, impermeability, flexibility, lightness, comfort and safety. - Made in ITALY
MEKAP
as well as being the first brand since 1972 to produce with PU injection system in Turkey, has also been producing safety footwear since 1996. Since its inception, with it's philosophy that focuses on satisfaction 0 its customers, MEKAP aims at delivering comfortable, durable and healthyproducts to its customers, as fast as possible.The mission is focused on making a difference in the field of work related footwear that is based on HUMAN HEAL TH. To fulfill the mission are taking swift steps on adding the newest technologies that the modern world is using, to the structure. it serving with an annual 3 million pair capacity at the production station.With ifs certified production according to international standarts such as EN ISO 20344120345120347, ISO 9001, ISO 14001 and OHSAS 18001, MEKAP has always given priority to it's customers requests relating to their satisfaction and trust. - Made in TURKEY
Safety mirrors
are becoming increasingly common in the workplace due to their ability to provide a 360-degree view. A simple convex mirror can reduce the number of injuries as well as robberies.each location will have different security goals so, the size and shape of the mirrors will vary in order to coincide with their purpose.Safety and visibility are inextricably linked.also known as a blind spot mirror or fisheye, is simply a lens-shaped mirror or a dome that reflects light in more than one direction. As a result, it has a very large area of vision. Despite its seemingly simplistic concept, a safety mirror is an important component in the security of a number of different and businesses and households. - Made in CHINA
---
6 Main Types of Safety Mirrors
1. Stainless steel mirror
Stainless steel is the superior mirror material since it cannot be cracked or corroded, and the image quality does not deteriorate over time. The only disadvantage is that stainless steel mirrors are easily dented, but they can withstand normal forces like sunlight, water, etc.
---
2. Traffic safety mirrors
Are required at all entrances and exits to a facility, especially in areas where large trucks enter and exit frequently. They are designed to withstand harsh weather conditions without sacrificing on reflective materials, and feature red and white hazard markings across the border of the mirror.
---
3. Dome mirrors
Full-dome mirrors have a 360° field of view. Dome mirrors, which are available in quarter-dome, half-dome, and full-hemisphere options, have similar protection and security benefits. They are often installed on the outside of tight corners on roads to enable drivers to check for oncoming traffic.
---
4. Half-dome safety mirrors
Half-dome safety mirrors have a 180° view, allowing for optimum visibility in a variety of corner configurations and providing assistance with unsafe corners or surveillance views for large areas, like huge construction sites, where extra protection might be needed.
---
5. Glass mirrors
Glass mirrors have a clear reflection and are scratch-resistant, but they can be very weak if knocked. They are suitable for internal use, like households, where they are less likely to be broken or harmed by weather.
---
6. Convex mirrors
Convex mirrors provide an angled view for places that need observation, such as dangerous corners. They can be used on equipment such as mechanical diggers as well as other vehicles on the job site.
---
Klaxon
Signals are UK specialists in the design and manufacture of world-class signaling equipment. Through innovation and technical expertise, Klaxon Signals produce audible and visual signaling equipment, utilized in fire evacuation, industrial signaling and mass notification markets around the world.Millions of people are protected and informed by Klaxon Signal's products, each and every day. Klaxon Signal's extensive product range includes: electronic sounders; voice enhanced sounders; sirens; beacons and wide area notification equipment. - Made in UK
---
Design Philosophy
Each and every Klaxon product starts with the same simple design philosophy, to out-perform all other products in its class. With a focus on performance, simplicity, style and reliability, product requirements are engineered into leading-edge designs that deliver high quality signalling solutions.
---
UK Manufacturing For Complete Control
Complete control for all aspects of development is ensured through design and manufacture of all products in state-of-the-art UK facilities. Klaxon Signal's lean-based demand-driven operations ensure the highest possible product quality and delivery performance.
---
Customer Focus
Providing a multi award-winning level of service and training, Klaxon Signals delivers a standard of customer care and support unparalleled in the industry. In a fire, everyone matters. Klaxon Signals' range of EN54-23 approved fire beacons and sounder beacons ensure that all personnel are notified of fire emergencies, including people with sensory impairments or working in sensory depriving conditions. With a new range of wide-area illumination and audible signaling devices, buildings are evacuated quicker, evacuation requirements are clear and unambiguous and everyone is made to feel safer.